List nr. 1: By plane in temperatures above zero, mostly with accommodation
List nr. 1: By plane in temperatures above zero, mostly with accommodation
We tested the equipment listed below on our last mont-long trip to Taiwan, where we went through a diverse environment including cities, jungles and mountains at altitudes from 0 to 3500 m and temperatures from 2 °C to 35 °C. Before departure, our luggage weighed just over 5 kg and we had everything we needed. Moreover we enjoyed the feeling of freedom acquired by having such light backpacks. We wish you all can experience the same.
We have compiled this list for adventure trips, where you travel by plane and sleep mostly inside in hostels, hotels or at locals. The clothing is adapted mainly for summer temperatures, but it is prepared for various climatic conditions, including the tropics and shorter stays in temperatures close to freezing. The list covers a wide range of activities from exploring cities, through staying by the sea to alpine tourism. With this equipment you can travel to most world destinationsand  practically indefinitely.
The basic equipment in an ultra-light design in this list weighs about 5 or 6 kg, including the clothes and shoes you will be wearing! In addition, if you travel with more people, there are some things you can share, so that only one of you needs to have them. Even with the addition of almost all optional items (marked "+" or put in the "Other" category), which we recommend to include to increase travel comfort, so it is not a problem to get "under 7 kilos" luggage. Important note for ladies: our weight calculations are based on equipment for men who tend to wear bigger and heavier clothes, so you can pack a few extra pieces without any worries.
1) Luggage
– main luggage
It is best to choose such a size that fits in the limit for cabin luggage - the strictest is usually 55x35x20 cm, i.e. about 40 liters. You will save money on check-in fees and time at the airport. And at the same time you will be sure that your luggage will be no problem on small local planes.
Smaller luggage is also a great way to discard unnecessary equipment and reduce the weight. Unnecessary things just won't fit in and you will have to consider what you really need and what you don't. Save some space for food and souvenirs.
We recommend a light travel backpack of cabin dimensions with storable straps in case of check-in and with the possibility of opening the "lid" and packing like a suitcase. All you have to do is unzip the luggage at the hostel and there is no need to unpack everything or to look for a needed item for a long time.
Our choice: Gregory Border Carry-On 40, 1315 g
– second smaller luggage
Something you will normally walk with when you leave your main luggage in the hostel. It can be either a packable backpack or a light shoulder bag or a handbag. It is important that the second piece of luggage easily fits into the main luggage, at least during flights between destinations. The second piece of luggage will also allow you to carry more things temporarily, for example after buying food. On the way back, you can use it as a hand luggage if you have no more space in the main one due to the amount of souvenirs.
Our choice: Sea To Summit Day pack, 68 g
+ backpack raincover
Pack up only if you are planning to go to the mountains with a backpack or if you are going to destinations where it often rains.
Our choice: Osprey Raincover, 85 g
2) Clothes
We chose the clothes so that it is universal, easily layered and maximally casual in appearance, while maintaining top parameters. At the same time, the materials are easy to maintain and quick-drying, because regular washing by hand or in a washing machine in hostels is expected.
– lightweight waterproof jacket
Protects you against wind and rain. Unlike the raincoat, it is breathable. It warms up, but not too much so that it can be worn even in higher temperatures. Compared to Gore-Tex and similar materials, it is lighter and takes up minimum space when packed.
Our choice: Montane Minimus Jacket, 227 g
– fleece jacket
A quality fleece jacket or sweatshirt (we recommend the Polartec Classic micro material) has the best ratio of insulation and weight compared to other sweatshirts (roughly twice that of merino wool and four times that of cotton), so it is an ideal thermal insulation layer. At the same time, it is easy to maintain and dries quickly. A full-length zipper will give you better thermoregulation.
Our choice: The North Face Glacier 100 Full zip, 281 g
– 2x-3x merino wool T-shirt
T-shirts made of merino wool (we recommend a weight of 150) resist the bad odour for about 3 times longer than cotton and also dry faster. Therefore, you can change your T-shirts with only hand washing. To a humid environment or if you sweat more, we recommend 3 pcs. In addition, these t-shirts are really comfortable and functional.
Our choice: Icebreaker merino T-shirt, 145 g
– convertible multifunctional trousers
Trousers and shorts in one will save you a lot of space. They also don't have to look like mountain pants. It is very comfortable to add the trousers legs into your backpack / handbag and put them on after dark when it gets cold. We recommend to choose light and quick-drying materials, detachment above the knees and rather lighter colors in the heat.
Our choice: The North Face convertible pants, 390 g
– 3x-5x boxers/panties
We recommend quick-drying synthetic fibers such as Coolmax, or natural merino wool (weight 150), which also dries relatively fast and, in addition, resists odors longer. These functional materials will also ensure your comfort on long flights and hikes.
Our choice: Icebreaker Anatomica Boxers and Icebreaker Siren Bikini
– 4x-5x socks
Due to frequent washing, we recommend light, quick-drying, functional merino wool socks.
Our choice: Darn Tough
+ scarf or kerchief
Light but large scarf is one of the most versatile pieces of clothing. It can be used around the neck, on the head, as a seat pad or as a blanket. It can also be used by women to cover their head or shoulders when entering temples or they can tie it as a simple elegant skirt or top.
Our choice: Traveler's Tree Insect Shield Sarong, 71 g
+ head cover
In a hot weather it is necessary to protect yourself from the sun. Choose bright colors. For some, the above scarf may be enough.
+ swimsuit
Gentlemen have the advantage that the swimsuit will also serve well as a second short.
+ raincoat
If you do not need long-term weather protection, you can replace the waterproof jacket with only a light backup raincoat / poncho.
Our choice: Light poncho, 43 g
+ city clothes
Especially ladies like to look good in cities. As we wrote in the introduction, they are lucky that their clothes usually do not take up as much space as men's, so they can, for example, take more T-shirts without penalty. As an additional alternative to a fleece sweatshirt, we recommend a light sweater or a shirt or T-shirt with long sleeves. You will look better than in the sweatshirt and you will expand your layering options. Another pants, shorts or even skirt can also be considered.
Our choice: Icebreaker merino T-shirt with long sleeves, 200 g
3) Shoes
– sports ankle boots
Choose as light as possible and waterproof. You can wear them for mountain hikes and cold weather.
– flip flops
Light, comfortable and easy to wash. They take up almost no space and you can use them in the heat, on the beach and in the hostel, incl. shared showers.
+ sandals
For some, sandals are enough instead of ankle boots and flip-flops in warm counditions.
+ city shoes
For example ballerina shoes don't add too much weight, but they add to the style and ellegance.
4) Hygiene

5) Health
6) Documents and money
7) Other equipment (optional according to destination and your needs)
A few words in conclusion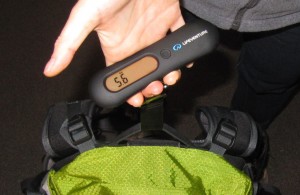 This list is based on our experience and the experience of our customers. By no means do we want to convey that this is the only right mix of equipment. It may seem too limited to some, and it may contain useless stuff for experienced travelers. We compiled it with the aim of giving a guide to beginning travelers how to travel light and not stray too far from their civilization habits and comfort.
Be prepared that on trips with this equipment, you may need to buy or rent something from time to time, but the list is not about buying clothes or throwing away unnecessary things. Of course, it needs to be adapted to individual needs, whether it is specialized activities, health problems or movement in an environment that requires formal wear. Of course, very long journeys, long-term sleep outside and extreme environments also require adjustments.
We hope you have gathered useful information from the list and wish you a happy journey!
What would you change in our list? Did we forget something? Add a comment below! We will incorporate the selected comment suggestions into the list.