Our team
Štěpán Trojánek | Co-founder of Pod 7 kilo

Role in Pod 7 kilo: I am responsible for selecting the assortment and coordinating team activities. I have high demands on both, which makes my colleagues happy every day. :)
Favorite country: Taiwan
Favorite transportation: Plane
Favorite product: Platypus Softbottle
Travel diagnosis: Love for travel gadgets and hatred for heavy luggage led me to found Pod 7 kilo with my longtime friend Roman. I love exploring of all kinds, whether it is hidden waterfalls at the far end of our planet or picturesque corners of Czech cities with a surprise in the form of a cozy shop or a local restaurant with great food. I plan trips in a minimum advance and I enjoy the feeling of freedom and the opportunity to let myself be taken somewhere by chance. I try not to hurry and not to be bound by the idea of "compulsory activities" in a place.
Roman Sušanka | Co-founder of Pod 7 kilo

Role in Pod 7 kilo: Since we gave my friend Štěpán's idea a specific form in the form of Pod 7 kilo, I have tried all activities that are possible and impossible. Nevertheless, most of the time I was doing graphics and design, which I am currently in charge of along with the development of the e-shop.
Favorite country: Planet Earth
Favorite transportation: Train, legs
Favorite product: Cumulus Lite Line 300 sleeping bag
Travel diagnosis: Trips to nature are a necessity for me. As well as a light backpack filled mostly with food, that tastes somehow better on the fresh air and with a nice view :) Freedom, getting to know each other, synchronizing biorhythms and admiring unknown beauties are what draw me to a wandering and enjoyable way of traveling.
Vít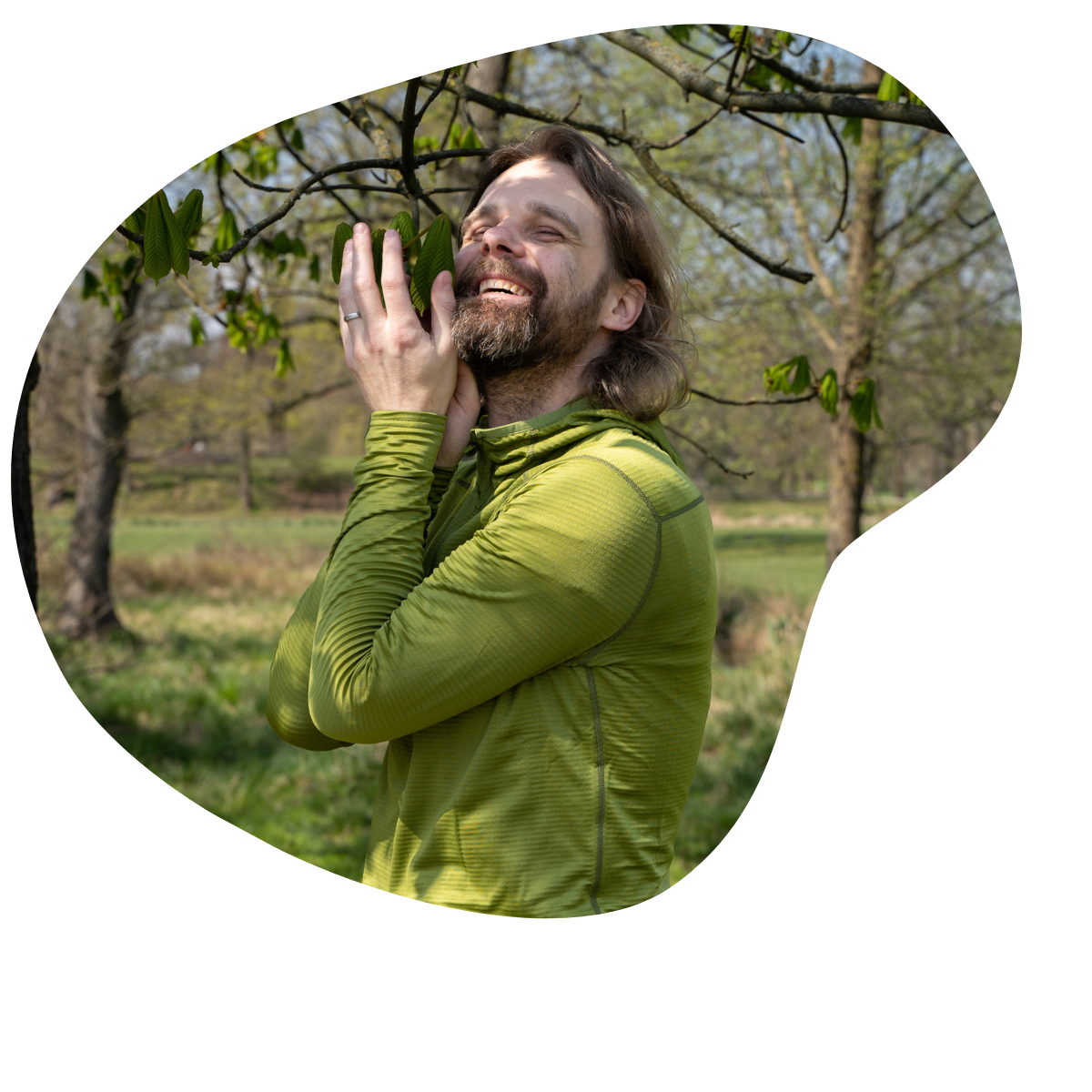 Role in Pod 7 kilo: I am in charge of the brick and mortar shop and the affiliate program. Above all, I am the director of the festival stand. Here and there I ca also be seen on our social networks in the role of a model.
Favorite country: Czechia
Favorite transportation: Train, Millennium Falcon
Favorite product: Cumulus Quilt 250
Travel diagnosis: In my travels, I use everything I have learned in my life. I walk. I ride a bike. I climb rocks or ice. I'm rolling. I go to cities primarily for architecture and visual arts. My friend and our tester Viktorka brought me to Pod 7 kilo. It happened late at night in our favorite coffee shop and I still wonder to this day that I was still able to make such a good decision.
Filip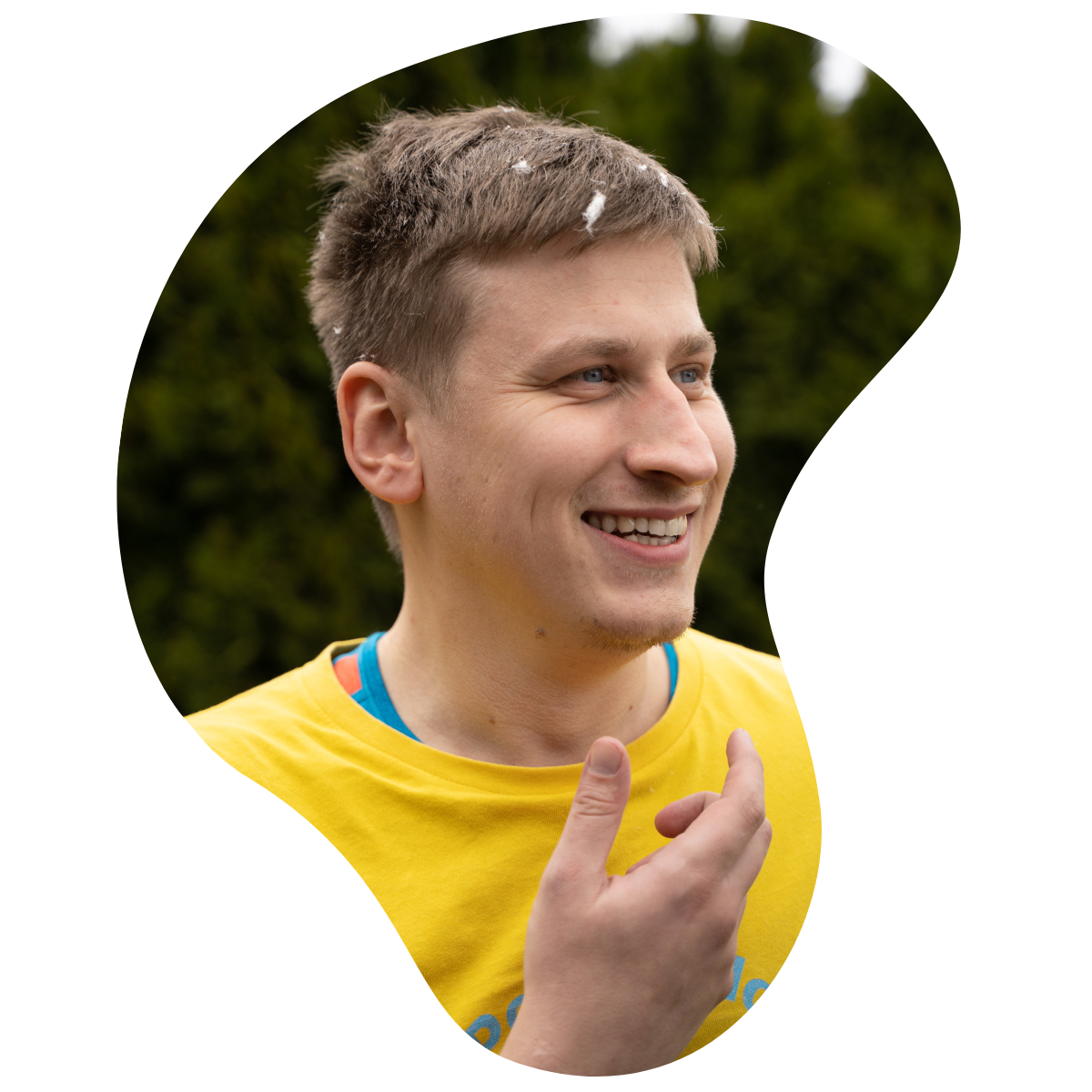 Role in Pod 7 kilo: My main role in Pod 7 kilo is to buy goods from manufacturers or suppliers and ensure sufficient supplies. In case of possible defects, I try to handle the complaint as much as possible to the customer's satisfaction.
Favorite country: Slovakia
Favorite transportation: My legs
Favorite product: Backpack Gossamer Gear Minimalist 19 Daypack
Travel diagnosis: I like getting to know the beauties of our country, which I do on foot on treks and hikes and sometimes on bike. I only put a few things for sleeping and a pile of food into my backpack and I can go on an adventure.
Pája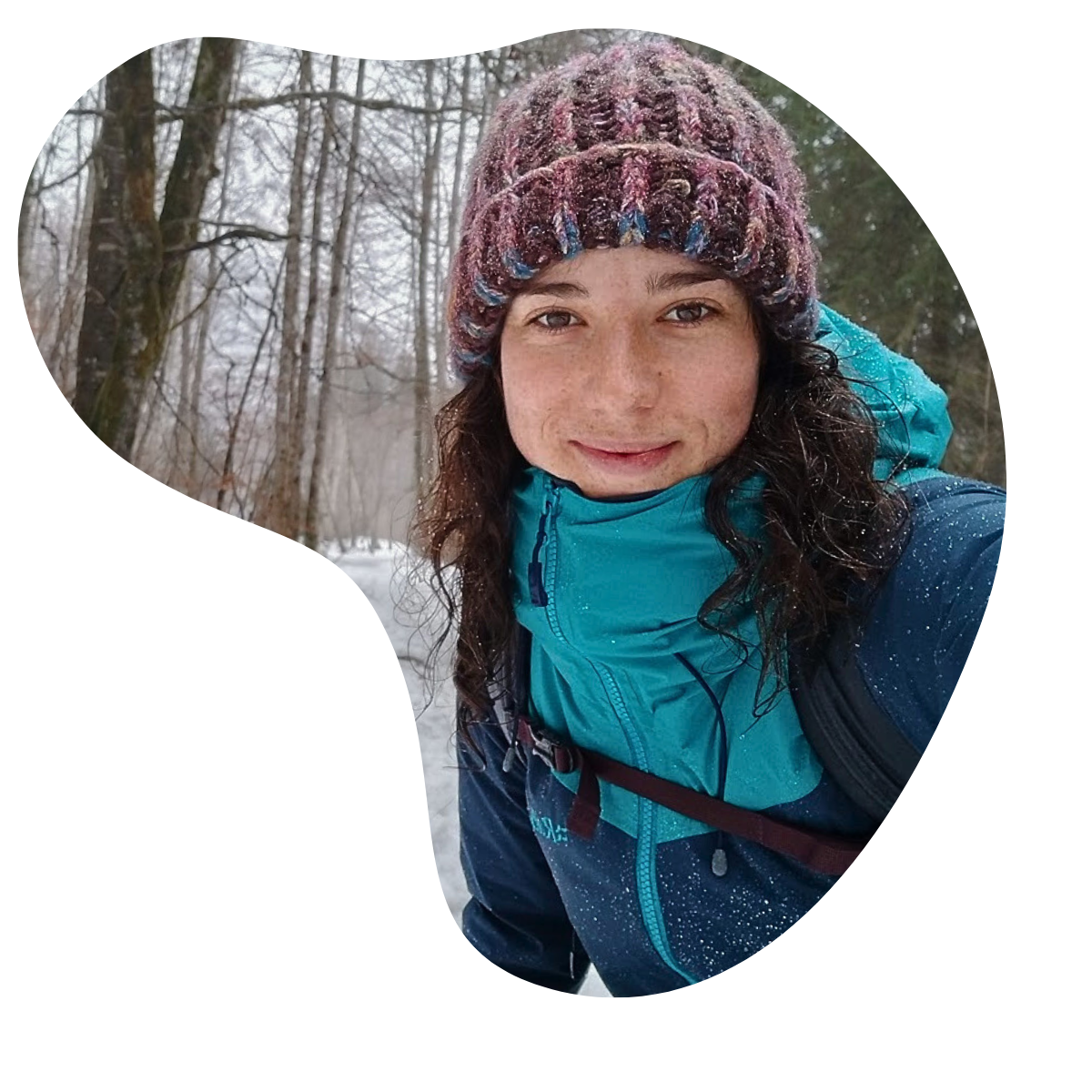 Role in Pod 7 kilo: A little of each. I manage social networks, cooperations with interesting people and also helping in the store.
Favorite country: Solid
Favorite transportation: Feet, car
Favorite product: Montbell Alpine Thermo Bottle
Travel diagnosis: I travel in order not to get stuck in the mundane and to relax, which comes mainly in places where there are not many people. Whether it's in the middle of the forest, on the ridges of mountains or even under water, I don't care so much anymore. Due to my inability to apply the map to the real environment, I often get lost and end up at completely different places from what I plan. But there is no shortage of experiences!
Lucie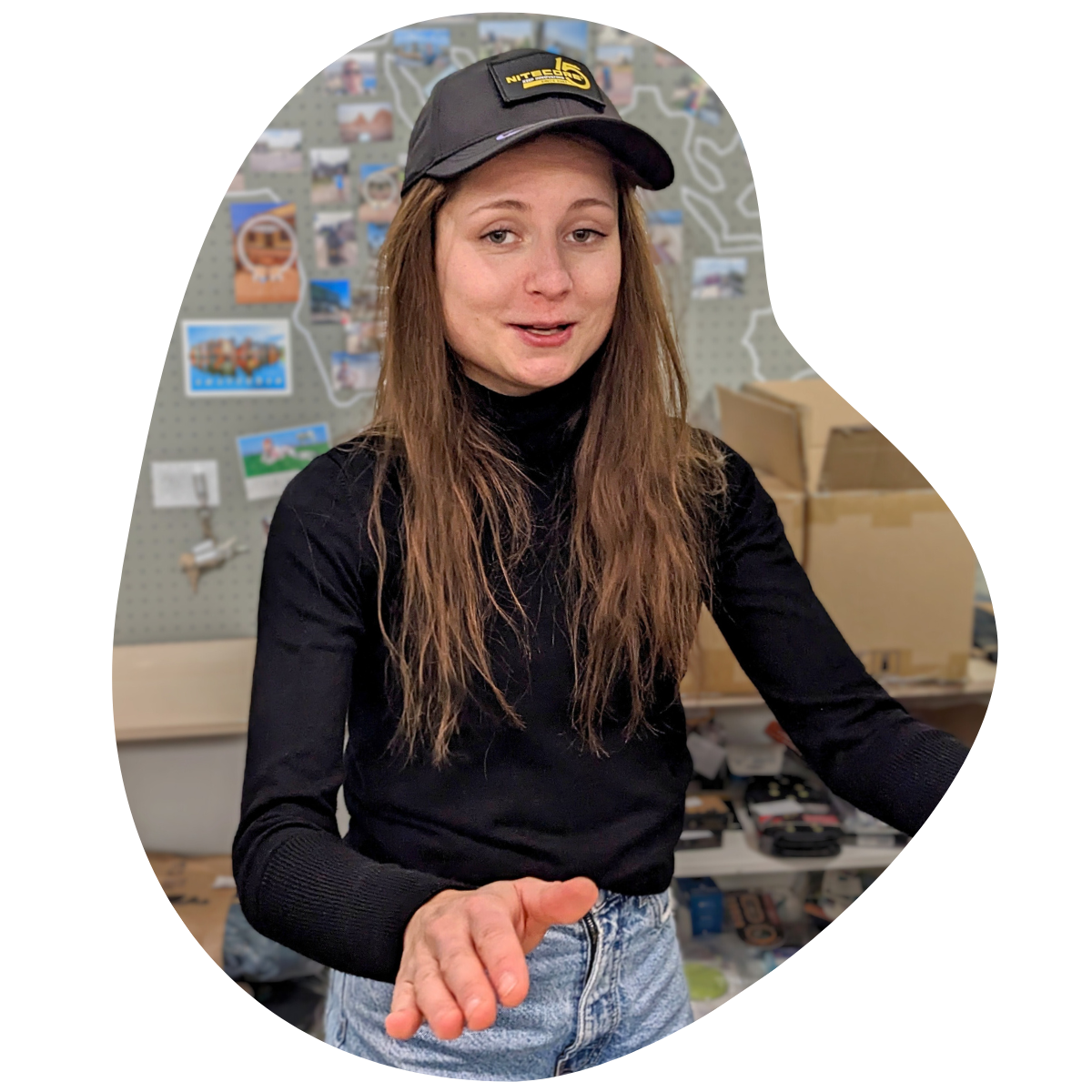 Role in Pod 7 kilo: I take photos and shoot videos, take care of our graphic appearance and often collaborate with Pája. Colleague Roman named my activity "Luciper studio", which summed up a lot.
Favorite country:Taiwan, Australia
Favorite transportation: Train, car, legs
Favorite product: Shoes Altra Lone Peak
Travel diagnosis: I like to wander the outskirts of the city. I enjoy observing the contrast of the socio-cultural aspects and architecture of these peripheral areas with the city centers. I also enjoy unpopulated places and their naturalness, which distracts me from everyday stereotypes - wild waves on the beaches, wind on the mountain ridges.
Roman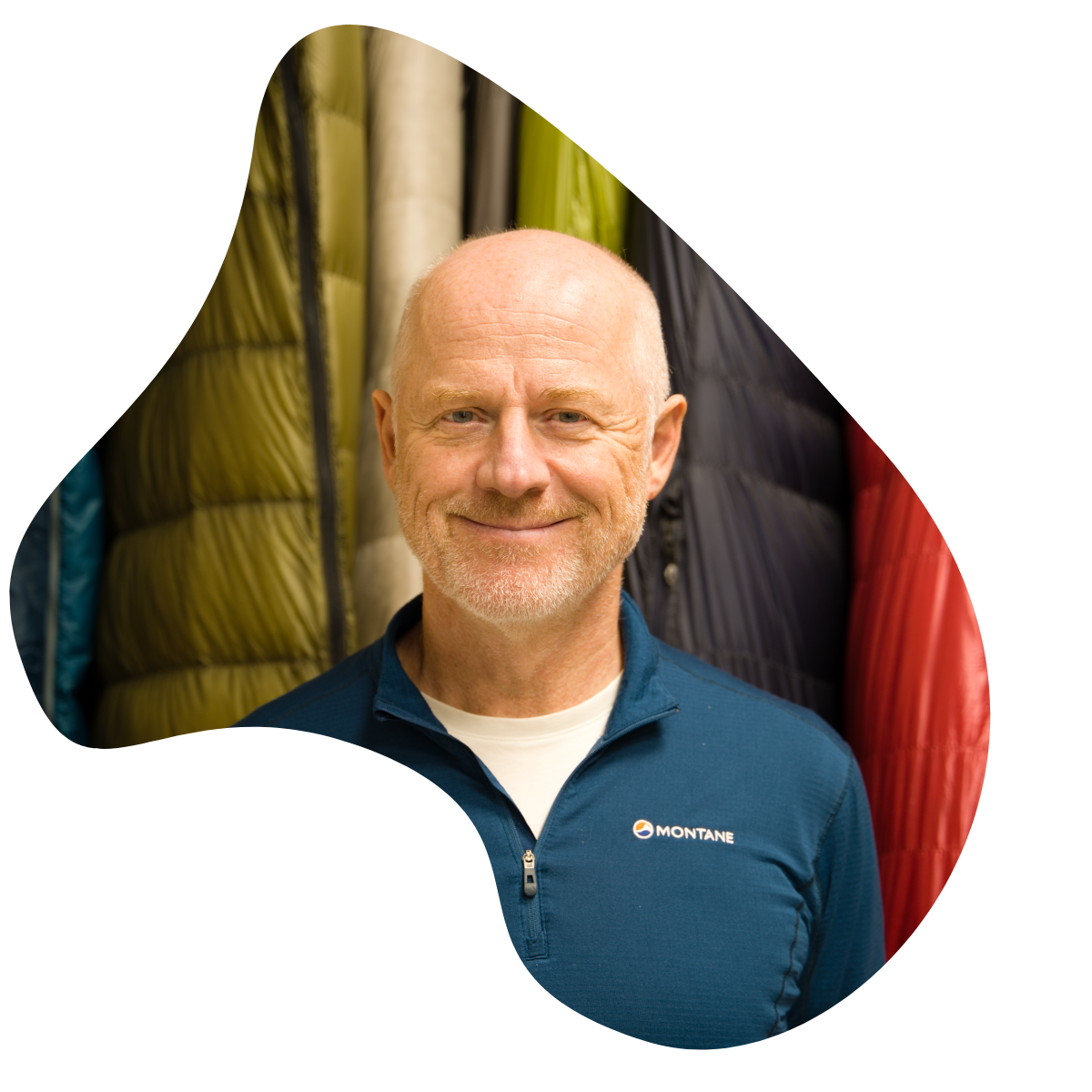 Role in Pod 7 kilo: I listen to our customers and try to recommend reasonable solutions to their requirements. Sometimes I add some tips and tricks useful for light packing.
Favorite country: Abandoned corners of Czechia
Favorite transportation: Bike
Favorite product: Tent MSR Hubba NX a Platypus SoftBottle
Travel diagnosis: Rather than a hiker, I am a "hard" bike tourist. I like to go somewhere by train from Prague and then come back for a few days. I deliberately choose places that may not be very attractive at first glance. Whenever I sit on some forgotten hill and watch the sunset, I feel my "batteries" being recharged. I like to carry a camera and drone with me to preserve my memories. When it's dark and sleeting outside, I'm at home going through my memories on the monitor and at the same time planning new adventures.
Adam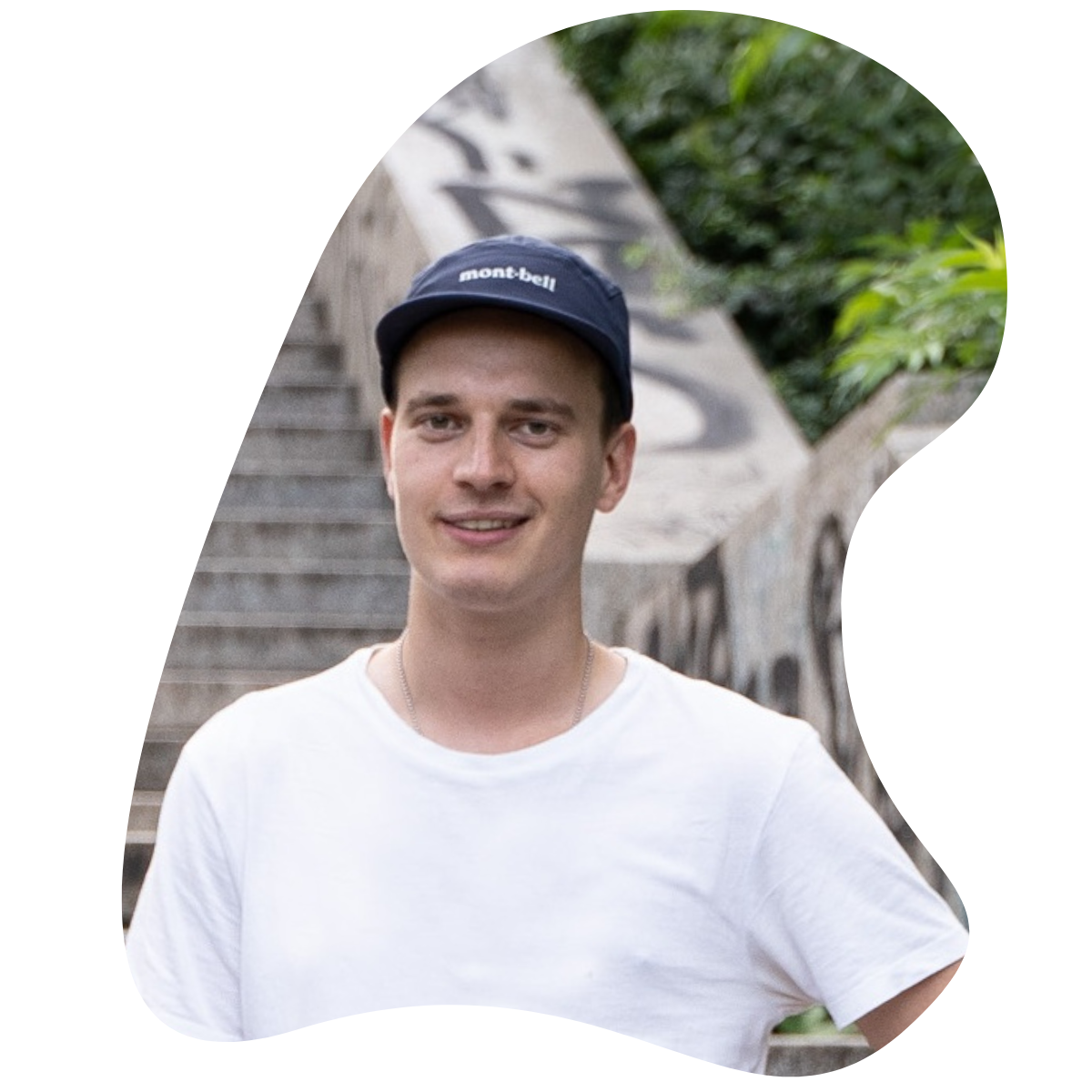 Role in Pod 7 kilo:  I take care of our customers in the store.
Favorite country: Italy
Favorite transportation: Legs, bike, boat
Favorite product: Platypus SoftBottle
Travel diagnosis: For me, traveling is a necessary thing through which I constantly get to know myself. I like to get lost in nature and cities while discovering their hidden nooks and crannies. I can be all day on my feet, but I can also do literally nothing all day and just swing in a hammock :) I believe that less is often more and the feeling of freedom with a light backpack on my back is priceless.
Lůca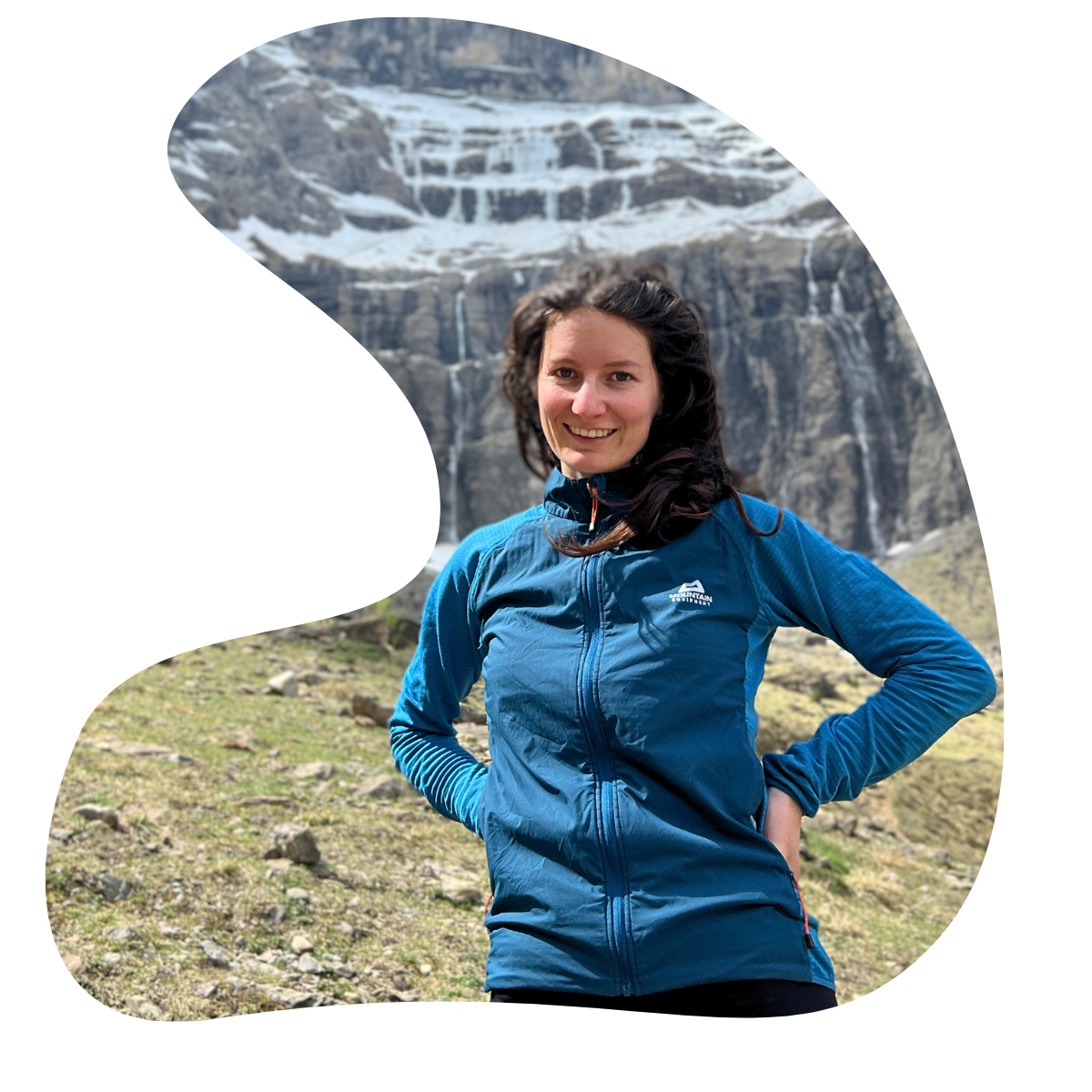 Role in Pod 7 kilo: I'm a part-time worker. This means that you can meet me in the store once or twice a week. I will chat with you about the equipment and share my modest experience with you.
Favorite country: Island
Favorite transportation: Train
Favorite product: Sea to Summit AIRlite Towel
Travel diagnosis: Traveling is in my blood. As a child from a climbing family, I learned to go to the mountains every summer, and I got used to going to rock towns and cycling with my grandfather. However, I don't only need to go to the wild nature. What I enjoy most is alternating between different types of trips - go to the mountains, to the city, or beyond the city. I prefer to plan my trips a day in advance, then I only look for what I want to visit on the way. I want to spend a lot of time in some countries, one of them is England, where I lived for half a year and loved the low English hills. I have a list of places I want to visit one day and I'm glad that I it's been going great lately.
Anna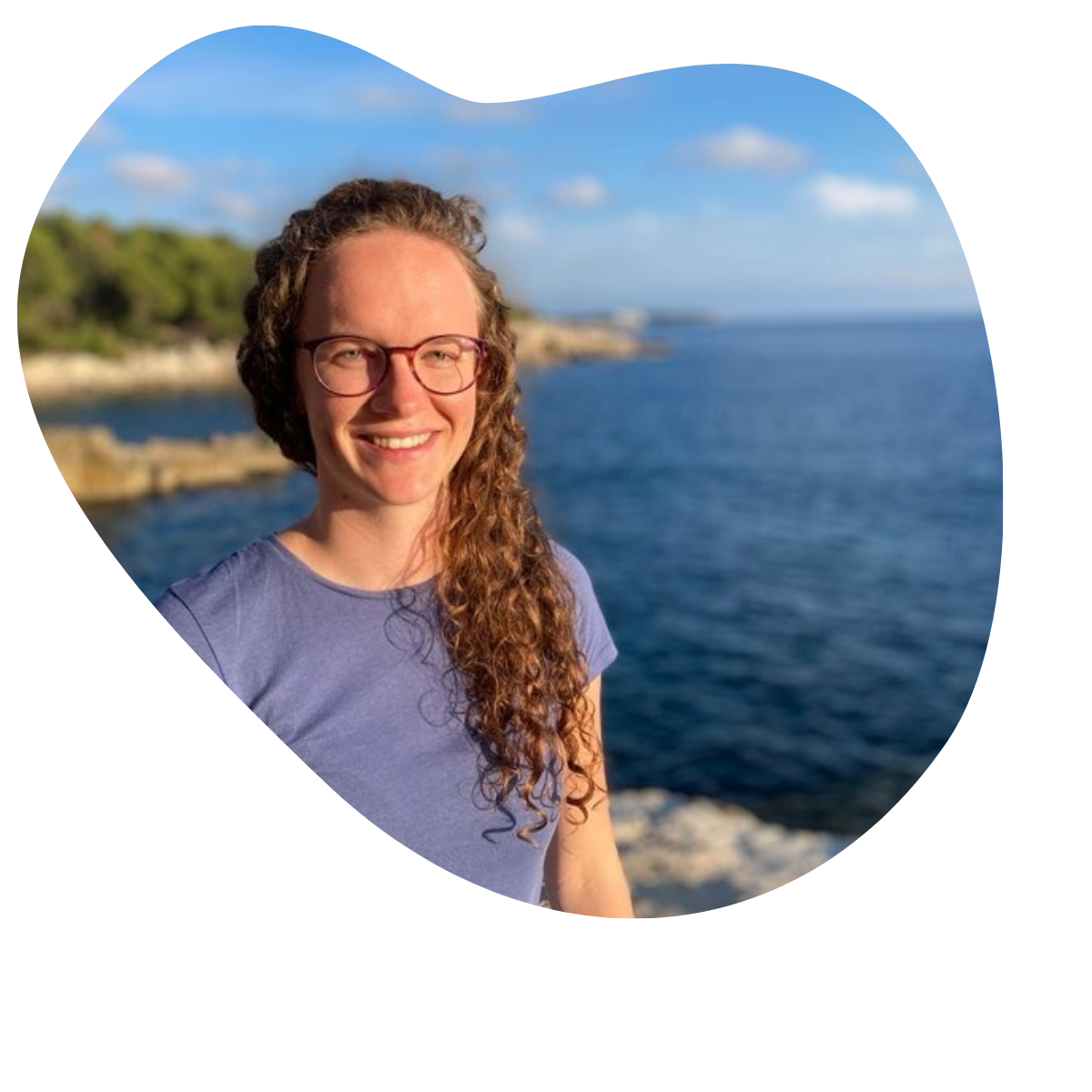 Role in Pod 7 kilo: I run around the store and take care of customers.
Favorite country: Alpine
Favorite transportation: Legs, train
Favorite product: Hyperlite Mountain Gear Stuff Sack Pillows
Travel diagnosis: At the age of seventeen, I took my first plane trip to Taiwan, where an exchange family was waiting for me. From then on, I was hooked on traveling. During my university studies and covid, I was attacked by a spleen, which I managed to dissolve by dreaming about long journeys and mountains, collecting information about equipment and later also buying it. Discovering ultralight equipment dissolved my fear of walking "heavy". I first went with a backpack (and equipment for spending the night outside) on the part of the Czech Trail, where I discovered the magic of carrying everything I need on my back and walking from A to B for several days only on my own feet.
Justy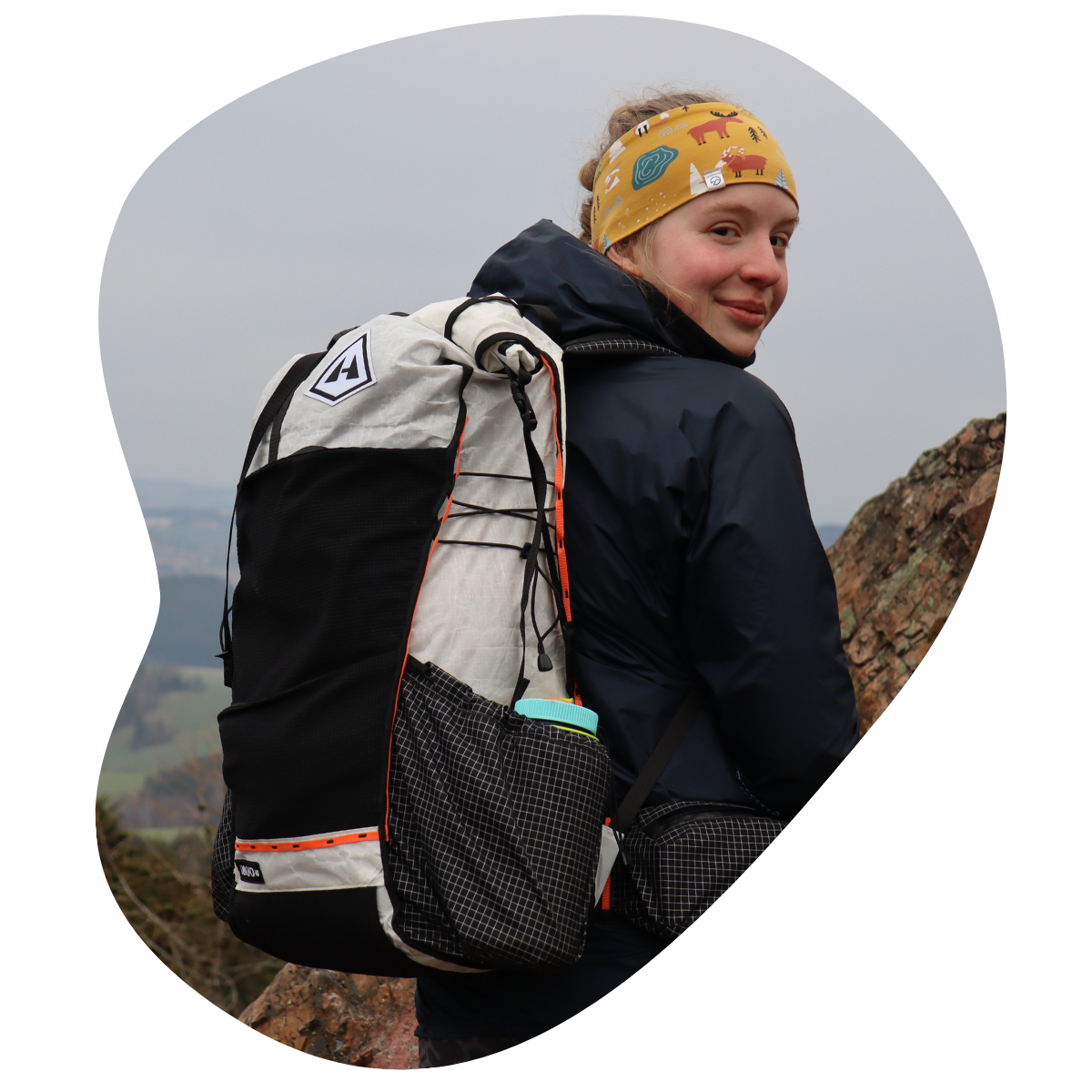 Role in Pod 7 kilo: Reinforcement at the store
Favorite country: Norway
Favorite transportation: Legs
Favorite product: Backpack Hyperlite Mountain Gear Unbound 40
Travel diagnosis: I collect trips and experiences like pearls for necklaces. But if I wanted to find my favorite memory, I would have to go through countless of them. In my (so far) short life, I managed to find out that traveling (and especially long-distance walking) is the direction I want to take and the desire to see the whole world, and maybe even what awaits somewhere beyond it, is the spice of my being. I go to go, to feel freedom and to really live, because the real world is waiting out there and it starts behind fear!
Our ambassadors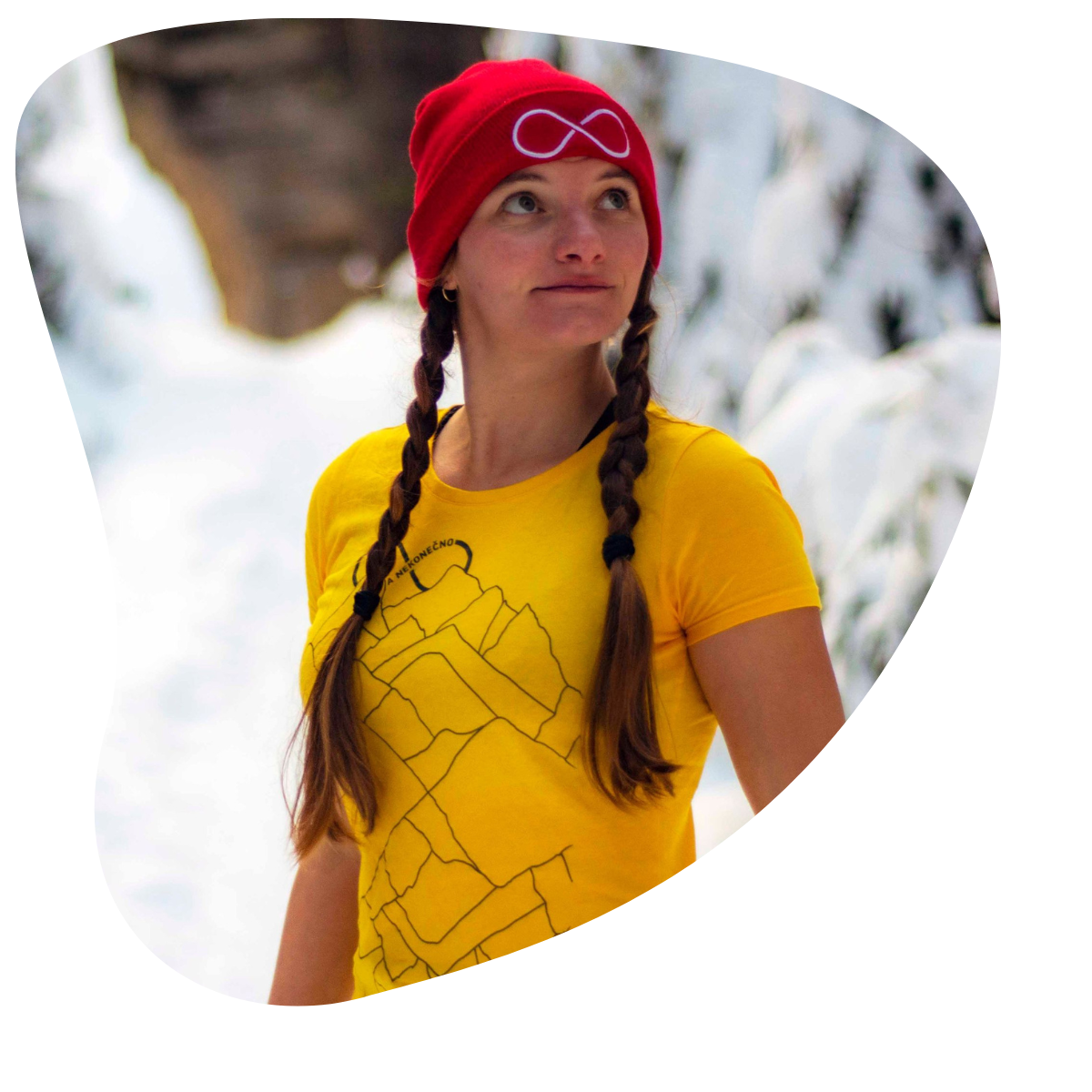 Role in Pod 7 kilo: I test the equipment for Pod 7 kilo and if I am in Czechia, you can meet me at the store.
Favorite country: Mountainous
Favorite transportation: My own body
Favorite product: Sea to Summit Ultra-Sil Nano Tarp Poncho
Travel diagnosis: I travel low-cost, without planes and with a light backpack. I mainly do solo long-distance mountain crossings with an interest in off-trail. Among my most outstanding journeys are a double crossing of the Carpathian Arch, a crossing of the Balkan Mountains with a destination in Istanbul, and a crossing of the Caucasus from the Black Sea to the Caspian. I lived in Iceland for half a year, where I worked as a sheep herder. I spend about half the year on the road, taking pictures, filming, volunteering and testing equipment for the Pod 7 kilo shop. You can find my gear lists and other information about my travels on the website ultraviktorka.net.
In Czechia, I write articles, organize travel lectures and trek skills workshops. I published a book and an audiobook Hory a nekonečno (meaning Mountains and infinity) in the publishing house BWT Books. In my spare time, I engage in micro-adventures - for example, I traveled to Italy disguised as a man, my friend Vítek and I bivouaced in Prague bridge structures, or I went down the river on an inflatable deckchair. I decided that in life I will focus mainly on what brings me joy - and wow, it works.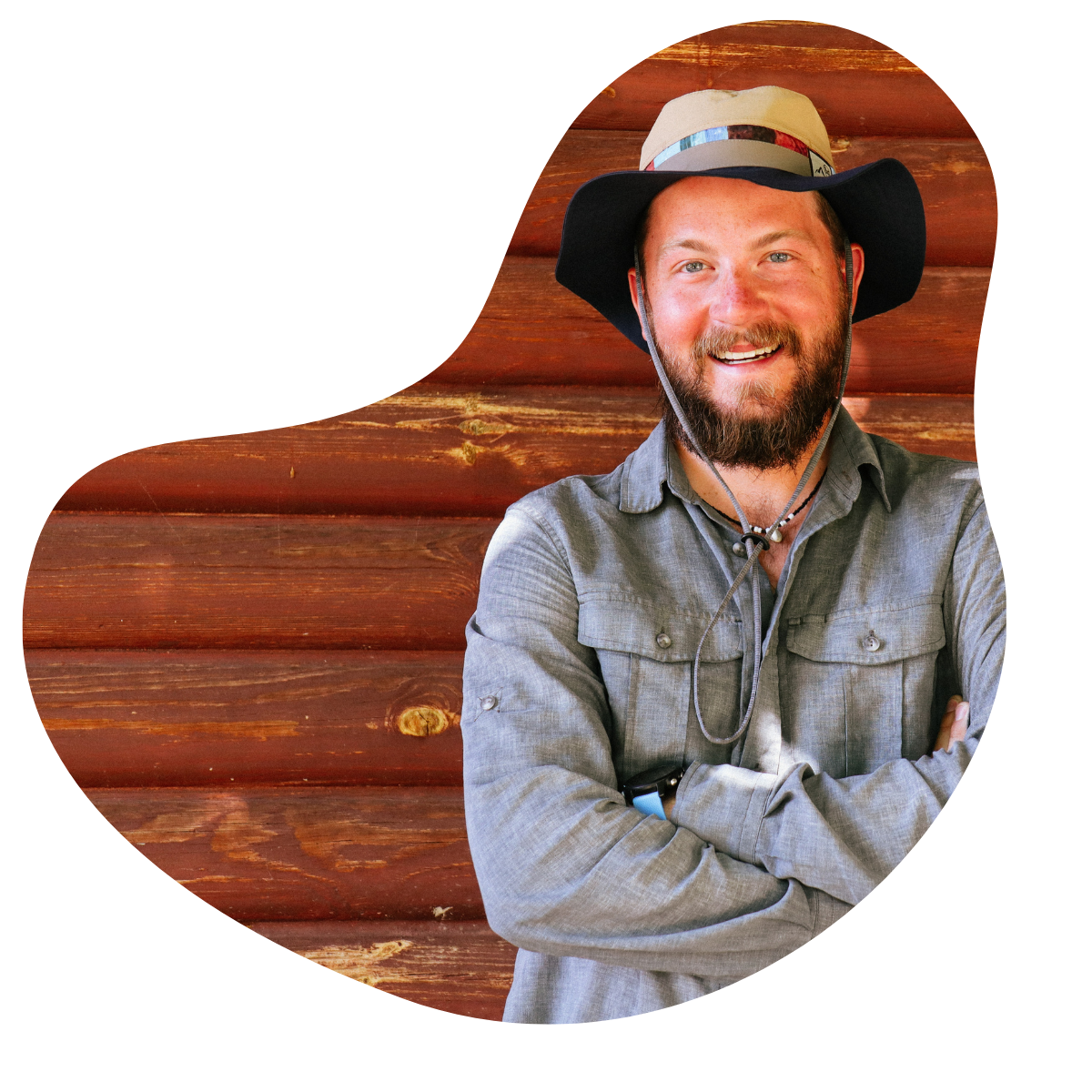 Role in Pod 7 kilo: I test hiking gear for Pod 7 kilo.
Favorite country: Montenegro
Favorite transportation: Legs
Favorite product: Backpack Hyperlite Mountain Gear Unbound 40
Travel diagnosis: Most often I travel on foot and to the mountains. I like physical geography, waterways and ultralight gear. Since 2017, when I crossed the Swedish Kungsleden trail myself to verify the well-known saying "Happiness is only real when shared", I regularly go on long mountain crossings and write the kubojovycesty.cz blog. I have already completed a number of European long-distance treks, from which I always return full of life and energy. Long treks have shown me how free I can be in the world, and that I am at home where the path is. All you need to be happy is to go, have a clear mind and a (light) backpack on your back. In 2022, I moved into my field house named Felix indefinitely, which allowed me to fulfill one of my dreams - living on the road as a digital nomad.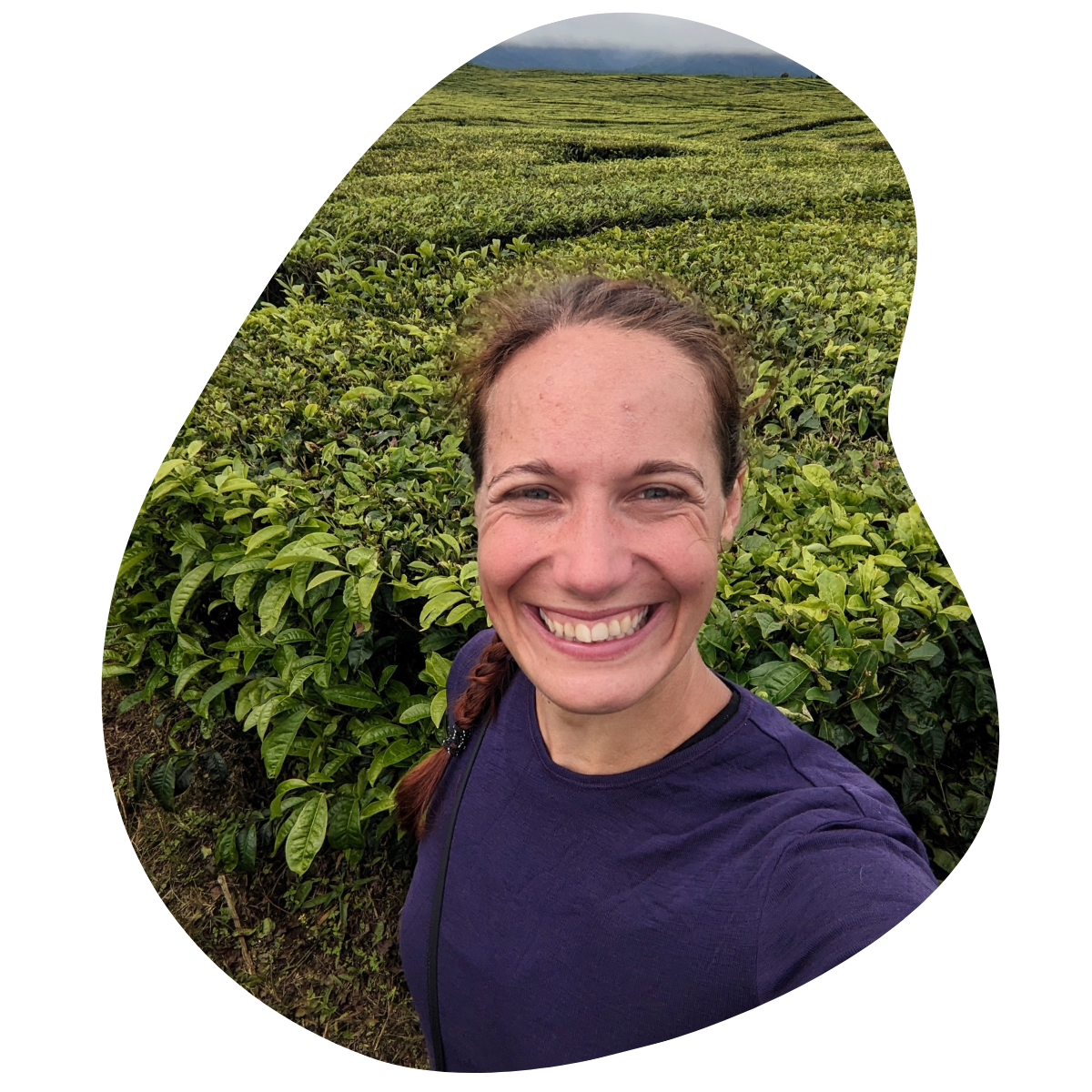 Role in Pod 7 kilo: I test products for Pod 7 kilo and also how many ultralight items can be packed into one backpack.
Favorite country: Kyrgyzstan
Favorite transportation: Boat, feet
Favorite product: Matador Laptop Waterproof Base Layer
Travel diagnosis: I act before I think. I go on trips without plans and then I can't stop being surprised. I lived in China for almost two years, I trekked solo in Kyrgyzstan for three months, and for the last year I've been moving around the world as a digital nomad. I can get by with just a little, but I don't risk it when it comes to food, that's why I'm known as a snacker.