How to travel under 7 kilos
How to travel under 7 kilos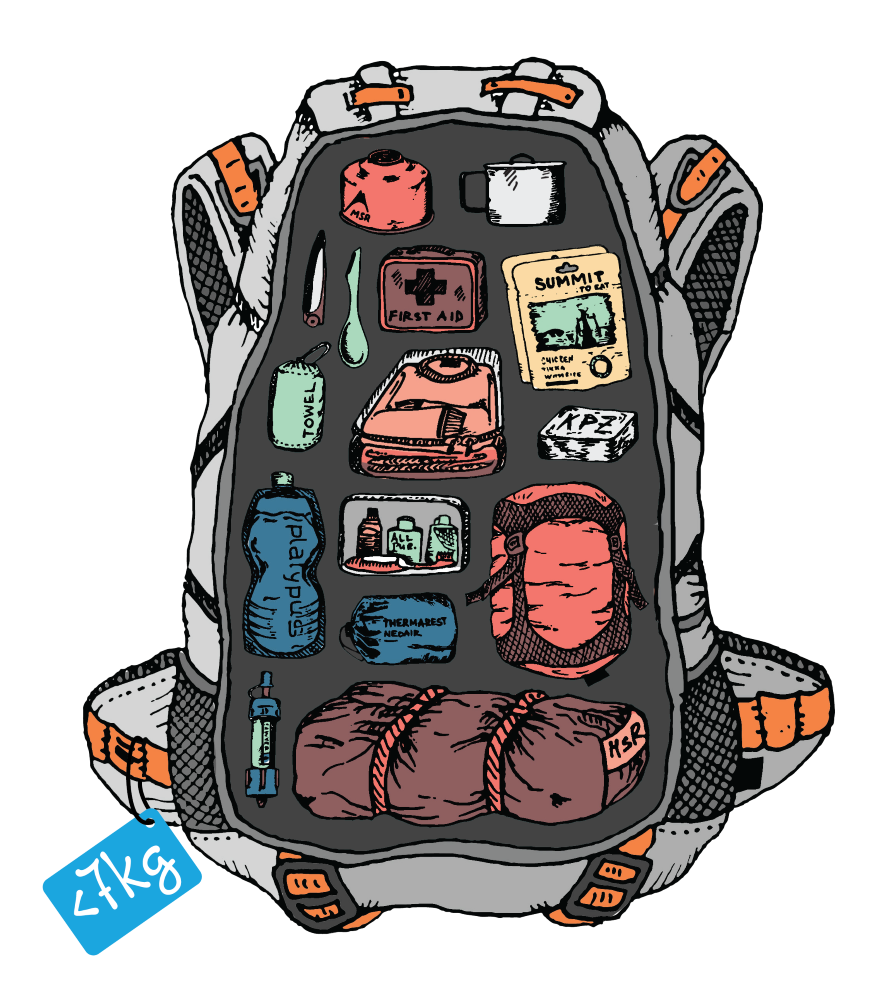 Traveling with luggage weighing less than 7 kg is just great. Moving from place to place with such a small load is easy. If you are travelling by plane, you will avoid waiting and additional charges associated with baggage handling. In short, traveling light brings more freedom and joy to. But how to at least get closer to 7 kilos?
Read our tips below, or jump straight to one of our travel lists:
List nr. 1: By plane in temperatures above zero, mostly with accommodation
List nr. 2: Trek with sleeping outside and cooking, from spring to autumn
Packing
Start with smaller luggage

Don't choose the luggage according to the amount of things, but first pick a luggage of a small size and start packing in it. You will have to discard everything you don't need to fit in.

Reduce "just in case" equipment

Nowadays, most things can be bought anywhere in the world, even in developing countries. Think of things that you can easily buy on site if needed and leave it at home.

Pack big items first, then fill in the blanks withsmaller items

You can also save space by filling the empty space inside of your shoes.

Try "bundle wrapping" method
This method consists of folding all the clothes into one "package", saves space and prevents squeezing. Good instructions can be foundHERE.

Bundle wrapping videos:




Do not pack the heaviest and biggest pieces of clothes, but take them on the day of the trip

This way it is possible to significantly approach the limit of airlines.

 
Lugage
Different types of trips require different luggage. If you are traveling under by plane, choose your luggage according to the following criteria:
Weight and size

To take full advantage of the hand luggage limits, you want your luggage to have minimum weight and, if possible, the maximum permitted dimensions (most often 55 cm x 35-40 cm x 20-23 cm). With ordinary tourist backpacks you will not use of the limits to the max, but you will with special travel backpacks which arel also adapted for easy packing and unpacking. You can find more information about weight and size limits for individual airlines on our blog (so far only in Czech).

Execution

Suitcases with wheels are only suitable for shorter city transfers. A lighter backpack or a backpack on wheels will usually give you more freedom. The possibility to unbuckle the straps prevents their damage during check-in.

Second smaller luggage

Beside the main luggage you should also have a shoulder bag or a foldable backpack for moving "on the spot". If you buy a lot of souvenirs, a foldable backpack or bag can also be used as hand luggage on the way back, while you check in your main luggage.
Clothes
Choosing the right clothes can make a real difference. Resist the urge to take all your favorite pieces and follow our advice instead:
Reduce the number of pieces of the same type to a minimum

However, it is necessary to take into account that it will probably be necessary to wash the clothes (e.g. socks) from time to time on the way.

Choose quick-drying materials

Unlike cotton, synthetic fibers often dry until the next day after washing. They are often lighter, less bulky and non-creasing. A great quick-drying alternative is also merino wool in lower weights up to 200 g / m2, which also resists odors for longer, so it does not have to be washed as often.

Be prepared for layering

For example, instead of a warmer and lighter jacket, take only a weaker one, under which you can wear, for example, two sweaters or two T-shirts.

Choose neutral colors (gray, black, beige)

So that everything fits together and so that the clothes could be combined in various ways.

Choose multipurpose clothes

Typical examples are detachable trousers, multifunctional scarves or pashminas, which can be used as a scarf, blanket and fashion accessory for the evening.
Hygiene
Pour liquid products into small bottles

Rarely do you use up a whole bottle of shampoo on the road. Remember that the maximum volume of one bottle in hand luggage is 100 ml. Due to pressure changes in the aircraft, fill the bottles completely or squeeze the air out of them. Beware of leaking caps.

Place everything in a transparent resealable 1 liter bag

The main reason are the rules for hand luggage. However, a sufficiently strong and waterproof bag can also serve as a very light replacement for a toiletry bag, with which you will not have to unpack and pack again before checking in at the airport.

Use universal multipurpose concentrated soaps

Only one product instead of 4 - suitable for the body, hair, washing clothes and dishes. When it's concentrated, you don't need much of it.

Use shaving oils

Small and light packages are the clear advantages of oils against foams and gels.

In an emergency, ordinary soap can also be used for shaving.
Laundry
You don't always have a washing machine or a laundry room on the way. In most cases, you will depend on the sink and your own hands. If you are going on a longer journey, you will appreciate the following equipment:
Laundry detergent

Ideally a universal soap that you can also use for the body and hair.

Clothes line

Preferably one that can be used without clothes pegs

Universal sink plug

Big waterproof sack

Suitable for emergency washing when a washbasin is not available.
Cooking
Considering luggage weight, it is best to completely avoid self-cooking. Otherwise, consider the following options:
If we eliminate solutions suitable especially for longer trips or for demanding conditions, an ultralight gas stove with a cartridge will serve as a good basic equipment, ideally in combination with a suitable pot.

But if you want to push the weight and dimensions even lower, consider cooking on liquid or solid fuel . If you only need to boil water to pour instant food or tea with, this is the best solution on shorter trips. Solid fuel is also the only fuel that some travelers carry by plane (in checked baggage), although it is officially banned.
Books and magazines
Are you a bookworm? Replace several books with an e-reader. Bonus: The wind won't turn your pages when on the beach.
Choose multipurpose equipment
As for clothing or all-purpose soaps, for other equipment also aplies that if it is multipurpose, you have multiple reasons to take it with you. And it potentially helps you save weight. Examples:
Trekking poles can sometimes be used instead of tent poles for some tents.

You can use the antibacterial hand gel to easily start a fire or ignite solid fuel.

The backpad of some backpacks can also be used as a seat or even as a small mat.

Baking soda can be used as a toothpaste, dishwashing detergent, heartburn medicine and many more.

Our favorite multifunctional gadgets are poncho/tarp/footprint, mini headlight/signal light/lamp, cooking pot/bowl/thermo mug or spork.
Make your own equipment
This advice applies especially to outdoor travelers. Do the commonly available equipment not suit you, or do you find it too heavy or expensive? Make your own! MYOG ("Make Your Own Gear"), as this trend is called, is gaining popularity and you will find a lot of instructions on the internet. You can start e.g. here or maybe better here YouTube.
In the end an advice above all
Choose the smallest and lightest equipment possible

You don't have to look long, we choose such things for you from all over the world in our store Pod 7 kilo. Check it yourself.