Fisher Space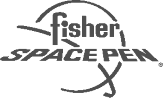 Ranking from MOST INTERESTING: We rank the products from the newest through our recommended ones to other older products. Out-of-stock products are displayed last.<br>Sorting is not affected in any way by, for example, paid advertising.
Products
Ultralight space pen. Weighs only 5 g (cartrige included)!
In stock in store
The pen that truly Goes Anywhere, Writes Everywhere but attaches to Everything!
In stock in store
Sealed Pressurized Ink Cartridge for Fisher Space Pen.
In stock in store